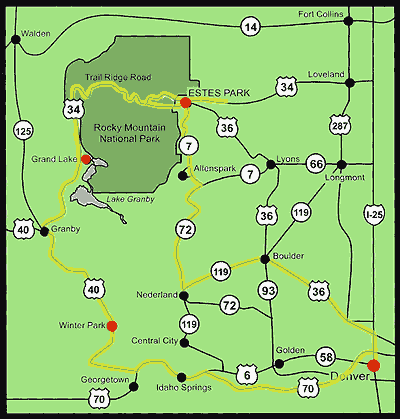 In August we spent 12 days in the Rocky Mountain National Park area of Colorado. Traveling the roads marked in yellow on the map, we visited Estes Park, Grand Lake, and finally Winter Park for the wedding that brought us out here.
Estes Park was our base for exploring the more-scenic eastern side of RMNP. The Rocky Mountains are more abrupt and dramatic when seen from the east, and lakes and waterfalls are more accessible from this side.
Our base for the western side of the Park was the village of Grand Lake, alongside the beautiful mountain lake that gives the town its name. This area was a pleasant change from the enjoyable but bustling and crowded Estes Park. Route 34 follows the Kawuneeche Valley, with the Never Summer Mountains on the west and the more gradual slopes of the Rockies on the east. Continuing into the Park, this road provides easy access to the spectacular Alpine Visitor Center at an altitude of 11,796 feet along Trail Ridge Road.
Making up for the less-spectacular scenery was the abundant wildlife. Early-morning drives found us up-close-and-personal with elk, deer, moose, and a number of smaller "critters" including coyotes, prairie dogs, chipmunks and ground squirrels.
As expected from a ski resort, Winter Park presented mostly man-made attractions. However, the wedding was wonderful and we did find a couple of interesting drives along old forest and logging roads in the Arapaho National Recreation Area and the Indian Peaks Wilderness.
Please browse our images from this, our first 100% digital trip. Being freed from the restraints of film resulted in nearly 2200 images over the 12 days. So we have no excuses if you don't find something you like among the following categories: